General eva mat is mostly used for household application. People put them at their basement flooring, kids play room and home gyms etc.. The general eva floor mat is finished with solid color such as red, yellow, blue, green, pink and so on. This is the very basic style of eva mats. General eva foam tiles can also be made in any colors with in Pantone matching system. Besides, for general eva mat, the thickness for eva mat is usually 10 mm, 12 mm, 20 mm. The size can be 30 cm x 30 cm and 60 cm x 60 cm. Higher thickness also means better cushioning and comfort. It also depends on where you use these interlocking foam mats. For kids, as they have a light weight, so you can choose foam mats with 10 mm thickness. That would be workable each for kids play room.
Kids play mat-Number, Alphabet, Animal and CartoonKids play foam tiles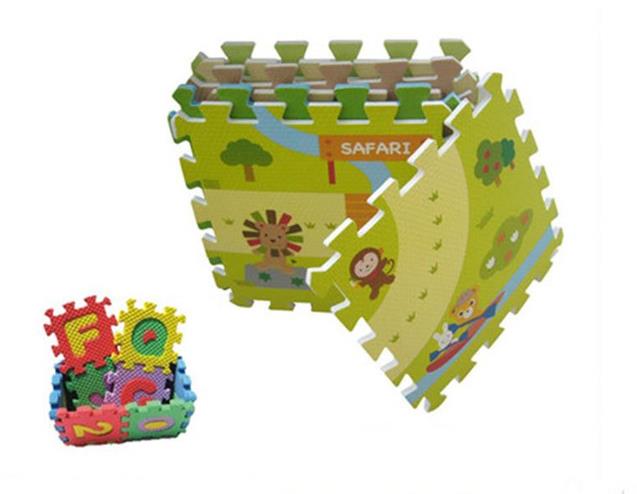 Foam puzzle mat can be manufactured to be many kinds of kids play mat. Kids play foam mats are usually made of a set of puzzle mats. They have many color items like number, alphabets and animals on it. Children can also take these color items out of the mat and play with them just like toys. The EVA foam kids play mat can also be printed with various custom design on it. So they can be very colorful and eye-catching. Usually the size of kids foam play mat is 30 cm by 30 cm. Its thickness is around 10 mm. This mat is also interlocking foam mat attached with removable border strips. When using the play mat for kids at home, it can be both protective and enjoyable.
Tatami foam puzzle mat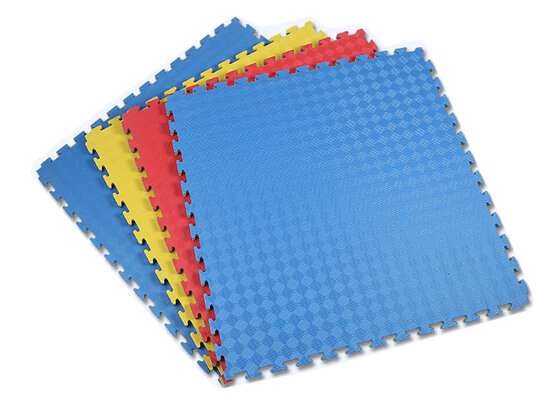 As
foam puzzle mats
have excellent cushioning performance and are easily portable with removable border strips, they are perfect to use as exercise flooring. In most cases, martial arts studio and boxing gyms etc.. If provides reliable support for players in martial arts, taekwondo, karate and so on. The size for tatami eva puzzle mats is 100 cm x 100 cm and thickness with 20 mm, 25 mm, 30 mm, 40 mm. 20 mm thick tatami EVA foam mat is the most economical one for exercise flooring. For fierce exercise like karate, we suggest to using 40 mm thick Tatami foam mat as they can provide superior protection for players. Also the tatami eva foam puzzle mat is of two sides anti-slip textured finishing. Their two sides are also made in two contrasting colors like red & blue, yellow & blue and gray & black ect.. Other custom sizes and colors can be achieved according to customer requests.
Household wood grain foam mats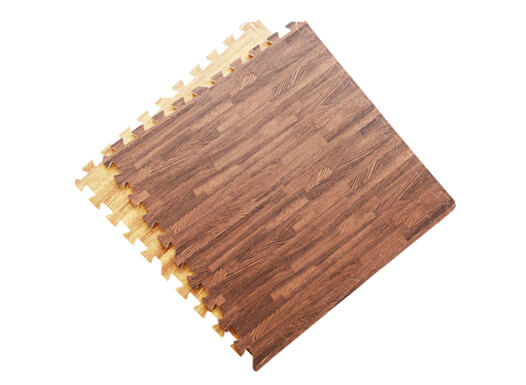 The wood grain foam mats are fantastic. These wood grain foam puzzle mats are specially treated with wood grain texture finish. They just have the same appearance of the wood flooring when you see it. But the can provide better accoustic performance and comfort underfoot. It is made of high quality EVA foam sheet and is laminated with a layer of thin plastic sheet with wood grain texture on it. Wood grain foam mats are quite suitable to use as home flooring and trade show booth. They come in sizes of 60 cm x 60 cm in length and width. Having these wood grain foam mats at home can be quite different for your home setting, Also they are an economical substitute for solid wood flooring.
Carpet foam matfoam puzzle carpet mats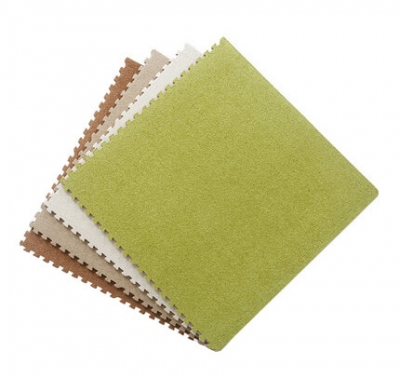 The carpet foam mat is specially designed by foam mats manufacturer to replace carpet for some occasions. It is very economical and convenient to use at restroom or other indoor room area. Also the carpet foam tiles are quite popular for trade exhibition. They not only have the luxury and comfortable carpet surface, but are easy to be installed and moved. Also the carpet foam mats are firmly laminated with our qualified EVA foam material. They can be very durable for long term abrasion. The regular size for them are available in 30 cm x 30 cm and 60 cm x 60 cm. The thickness for this foam tiles is around 10 mm. Also the color of foam carpet can be customized depending on customer needs.
EVA foam puzzle mats are much flexible in designs and sizes. So there can be a lot of custom designed foam puzzle mats. The usual foam puzzle mats have a square shape. Hone Arts can support you with rectangle and round shape. Moreover, Hone Arts
eva foam mats
will be in various custom designations as they can be specially treated to have multiple designs printed on it. Please contact us, we can provide more possibility and flexibility on your business.