Sequin fabric, also known as Sequin fabric.Bead piece cloth is to use bead piece and the glitter piece cloth that embroider becomes, be used for the range such as cloth of dress, bridal cloth, shoe material, hat material, case bag commonly.It is calculated in code.The thread used for embroidery is usually nylon thread (fish silk thread).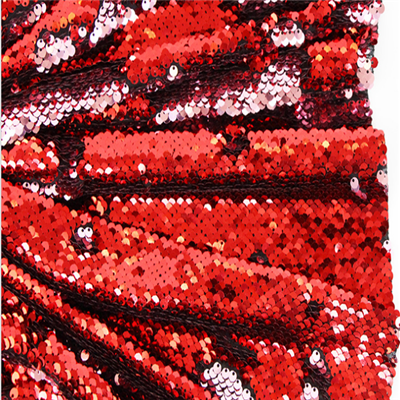 1.appearance
The material of bead piece cloth is qualitative the bead piece material that belongs to glance qualitative material to have dazzling bead piece to glance ablative effect, it is the best choice material fabrics of high class formal attire and high-grade product, the silk quality of a material in itself bottom cloth color ding cloth more embellished its is decorous cloth characteristic.
2.function
The bead cloth belongs to the PET environmental high temperature resistant material, which has a strong high temperature resistant and fireproof functional fabric. The 3-pin frame of the bead cloth is also easy to cut out and process other composite fabrics in the later stage.