Add seed, in the process of paper pulp can be infected with all sorts of color, to make paper called "seed" paper containing seeds. (this is a new environmentally friendly products, in this paper after use, can be discarded in the soil, at the right time and temperature and humidity, paper inside the seeds to germinate grow small seedlings,.)
In order to make handmade special craft paper more colorful, handmade paper workers will mix the seeds of these shrubs and flowers into the pulp, because the whole process of handmade paper, is completely environmentally friendly and pollution-free, the seeds in the pulp is not affected.After the paper is finished, the seeds still exist in the paper.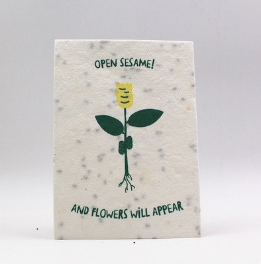 Modern people continue to produce this seed paper using traditional methods.And the seed paper related products exported to Europe and the United States and other developed countries.In China, this interesting product is also beginning its new market.
Use of seed paper
New environmental protection seed handmade paper, is a new idea, pure handmade.Paper contains plant seeds, buried in the soil, can give you an unexpected surprise.Seed paper can be widely used in a variety of paper design, such as: hangtag, business card, greeting card, packaging box, and so on, is a kind of both economic and environmentally friendly new paper.
Meanwhile,we also has many types of other paper for origami usage,like crepe paper,color paper, tissue paper,
corrugated paper,
etc