You will glue together 5 craft sticks. I laid them next to each other on a table and
then used 2 additional craft sticks to glue across them at an angle forming a triangle.
1,Once the glue is dry, you will use a craft knife or scissors to cut off any excess craft stick on the outside of the triangle.
This will form your roof of the gingerbread house.
2,Now, you will paint that outside 2 craft sticks white, and the inside craft sticks brown. Set this aside to dry.
3,Move on to the base of your house by placing 7 craft sticks together on the table,
and then attaching 2 more craft sticks to them going in the opposite direction to secure.
Paint the base of the house brown and set aside to dry.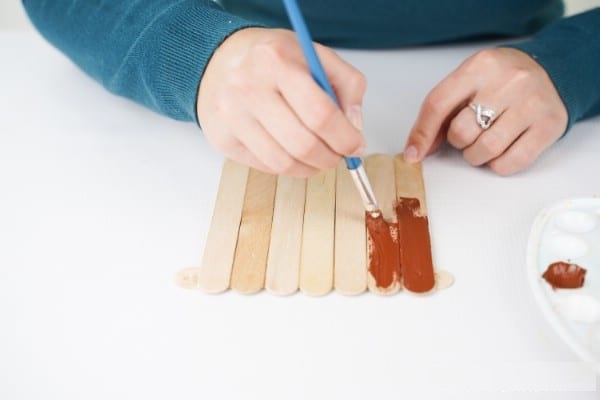 4,you will attach the roof of the gingerbread house ornament to the base using hot glue.
5,Paint on a small door or use felt to create one on the base of the house.
Add cotton balls on the bottom of the base with glue to look like snow.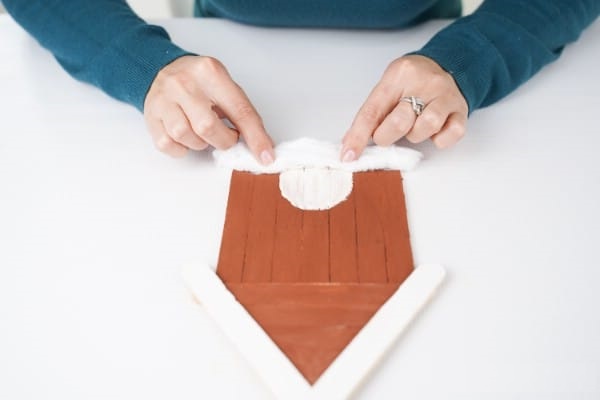 6,Add beads around the outside of the door.Seal the roofline with glue, then attach a strip of ribbon or glittery yarn as decoration.
7,Continue decorating with snowflakes, dots, beads, or other Christmas decorations until you are happy with the result.
Add a loop of ribbon to the back to hang from the tree.