How to Make a Christmas Snowman Decor from a Clay Pot
This Christmas snowman decor idea is another great repurposing of a clay pot. It is simple, fun, and inexpensive to make.
Supplies
Small clay pot
White paint
Black construction paper or foam paper
Small holiday berries & greenery for hat and snowman suit
Glitter ribbon or yarn
Scissors
Paintbrush
Begin by painting the flower pot white on all sides (inside not necessary). Set this aside and allow it to dry completely before moving on to the next step.
1,Painting the clay pot for the snowman decoration
Now, you will trace and cut out the black paper needed for your hat. First, the long strip to wrap into a circle for the hat middle.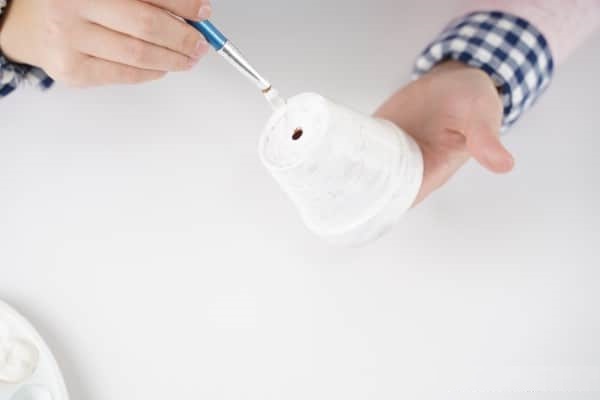 2,Stapling the tophat together for snowman decor
Next, you will cut out the brim of the hat.
3,Cutting the brim for the snowman tophat
Then, you will cut out the top of the hat.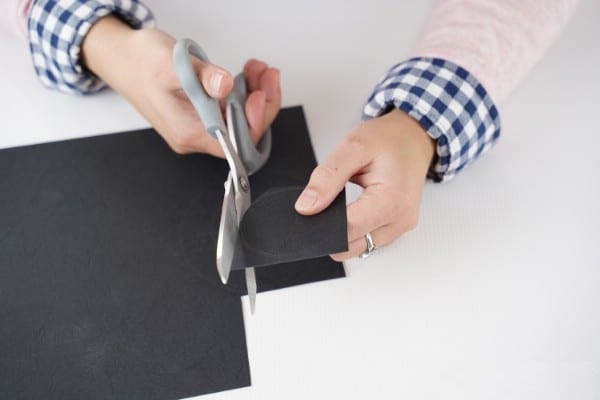 4,Cutting out the paper for the top of the snowman tophat
Attach these together with staples and glue.
5,Gluing together the tophat for the snowman decor
Begin gluing the glitter yarn or ribbon around the brim of the hat and very top of the hat as shown.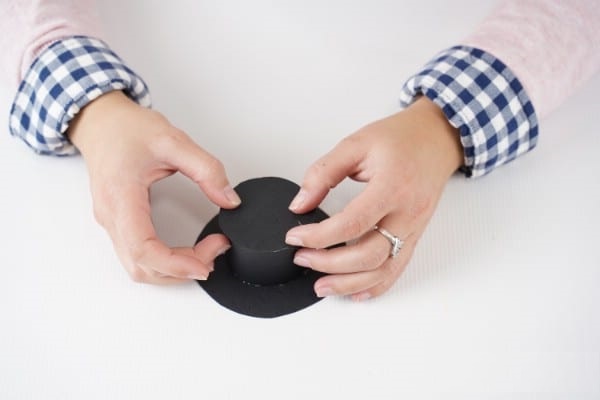 6,Adding white ribbon to tophat decoration on snowman decor
Glue this in place onto your styrofoam ball.
7,Gluing the top hat to the snowman face
Then add eyes and a mouth with black marker.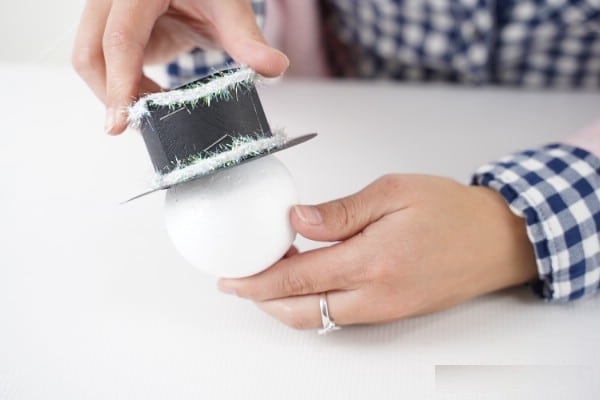 8,Adding a smile and eyes to the snowman face
Glue on a strip of orange felt for the "carrot" nose.
Adding the nose to the snowman face
Now, you will glue the styrofoam head to the bottom of the flower pot with the opening faced down onto the table as shown.
9,Gluing the snowman head onto the snowman decoration
Attach a strip of ribbon for a scarf.
10,Adding scarf to snowman body
Then, glue on the additional berries or buttons to create the "suit".
Next, you will attach a few leaves and berries to the hat from your holiday pick.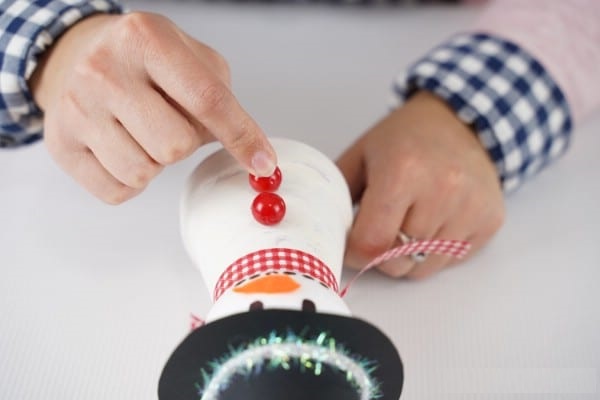 Attaching leaves and berries to top of snowman decoration
Let everything dry before displaying.
Clay pot snowman decoration on a white shelf in front of chalkboard let it snow sign