This is a great (and super easy) activity for helping kids learn and recognize shapes.
(This game is also a great way for preschoolers to learn!)
This Dinosaur building activity uses
craft foam
, which means it can be used over and over again! And the possibilities are truly endless.
Or use some glue on the shapes and it could also become a one-of-a-kind dinosaur craft! No matter how you use it, this simple dinosaur activity will produce some very unique prehistoric creatures!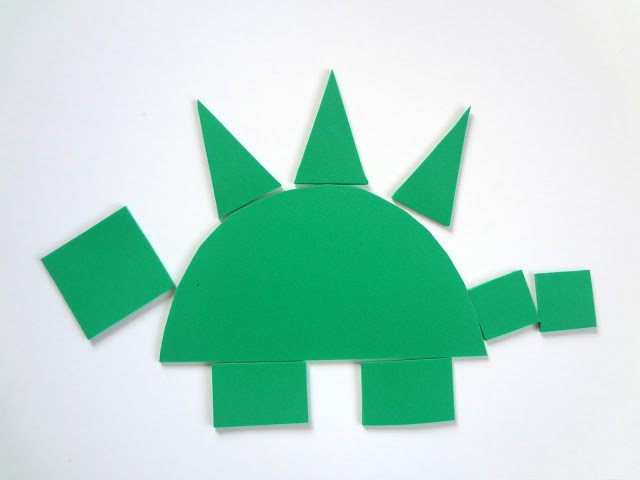 Supplies:
Green craft-foam (The foam is perfect because it is very durable for little hands. Check out this huge pack of craft foam for a great price on Amazon!
Scissors
Using the craft foam, cut out the following shapes:
1 big half-circle
1 medium triangle
1 medium square
1 medium circle
3 small rectangles
3 small long triangles
3 small squares
4 small triangles
3 small circles
How to Play:
Lay out all the shapes and show your child how to build a dinosaur. You can use the shapes however you wish. Here are the general ideas:
The big half circle is the body
The medium triangle, circle, and square are good for heads
The small shapes can be used for legs, tails, spikes, necks, etc.
Then let them go at it, building whatever kind of dinosaur creature their heart can imagine.